If we organize our business, what is our ROI (return on investment)?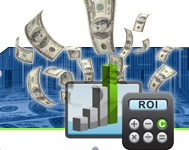 It is said that the average American spends over 150 hours per year, just looking for lost information.  Some estimates are even higher than this! Based on a 260 day year (not considering holidays, personal days, etc., and let's say you never look for lost information on the weekends…), that is almost 35 minutes per day, 2.9 hours per week and 12.5 hours per month!
On a personal level, the results are most likely:
late fees,
missed opportunities,
cost overruns by missing deals, etc.
On a business level, the consequences and costs can be much greater, including:
lost customers,
missed budgets,
added stress,
your organization not performing at its best…which usually equals lost revenue opportunities.
There are many ways to calculate an ROI for 'getting your act together' and making some changes in getting organized, but we all know that one of the biggest is the satisfaction and reduced stress of being able to put your fingers on what you need, when you need it! This feels so good and you can keep moving on the particular project at hand.  But, if you want to put some hard dollars to the investment of time and equipment/software required to change the way you do things and tune up your organizing skills, take a look at this.  We are calculating only hard dollar cost here — we won't deal with the opportunity cost of being disorganized — this means how much money you might lose if you don't properly service your customers in a timely manner.
"The average worker has 36 hours of work stacked up on his or her desk (and on the floor, on the shelves, on their credenza)." – USA Today
"The average person spends 6 weeks per year searching for misplaced information." – North Carolina's Brunswick Beacon
"The average person spends 8 months of his/her lifetime opening junk mail." – New York Times
Here is a very simple calculation of the cost of looking for lost information and not "being on top of things" in your office.  If you spend 35 minutes per day looking for lost information…
Pay – $30,000 year salary & benefits = $14.5/hour
Lost Time – 35 minutes/day, 2.9 hours/week, 12.5 hours/month, 150 hours/year
Cost – $14.5/hour x 150 hours/year = $2,175 per year/every year!
Your pay may be higher or lower and you may spend more or less time looking for lost information, but this calculation serves as an example of one way to think about the problem.  This simple calculation ignores all the hidden costs of disorganization such as the cost of lost opportunities, added stress in the workplace, the health costs of always feeling behind, etc.
So, in hard dollar terms, you will save over $2,000 per year and get that wasted time back for other much more productive things…including going home earlier from the office.  And in soft dollar terms, you will get more of your life back and be able to better service your customers with less effort using Paper Tiger Filing System Software for document management!
---
Tags: document management software, document management system, filing system software, get organized, Paper Tiger "finding" filing system, Productivity, Return on Investment
Leave a Reply